Sand casting is among the most preferred methods for casting techniques. This method is also the simplest and practical casting technique. During the process, the material used for casting is transferred into the casting sand. The molten metal is filled into the cavity and the casting material becomes an integral part of the product. Once the casted material cools down, it is removed from the sand. With this process, a product is obtained in accordance with the original design.
To get the best result during a complex casting process, one should use good quality casting sand. Apart from providing flexibility, sand also significantly reduces operating costs, since it is an inexpensive material. This is the main reason why sand casting application is this much common.
What is Sand Casting?
For the sand casting process, the foundry must first be prepared in accordance with the desired standards. Aerators are used to loosen the sand and make it easier to mold. Sand cutters, that operate over a heap on the foundry floor, may be used instead of mullers. For the delivery of the sand to the molding floor, dump or scoop trucks are used.
At the molding floor the sand is formed into molds; the molds may be placed on the ground or delivered by conveyors to a pouring station. After pouring, the castings are removed from the flasks. Adhering sand is removed by a shakeout station. The used sand is returned to the storage bins by belt conveyor or other means.
What are the Stages of Sand Casting Process?
The sand casting operation is based on a very simple process. The process is carried out in the foundries of sand casting plants. Both large and small foundries can be used during this process. The stages of this process can be briefly listed as follows:
Making necessary preparations for sand casting
Designing the sand mold
Assembling the sand mold
Pouring molten metal into cavities
Breaking the mold
Quenching the casting in water
The sand casting steps consist of pouring the liquefied metal into the mold, waiting for solidification, and breaking the mold to remove the casting. The casting is then cleaned and checked. In some cases, heat treatment may be required to improve the metallurgical properties of the product. The cavity in a sand mold is formed by as follows: the pattern (an approximate scaled copy of the casting piece to be manufactured) is covered with sand, and the mold formed is compacted and then separated into two parts, and finally the pattern is removed. Apart form having a runner system and a riser in the mold, it is also necessary to prepare a core if there are internal surfaces and hollow recessed parts in the part to be cast.

For a casting to be successful, the metal must be heated to the correct temperature at which it liquefies. The liquid metal is then poured into the mold cavity. For closed type molds, the liquid metal is filled into the mold cavity by means of channels known as the runner system.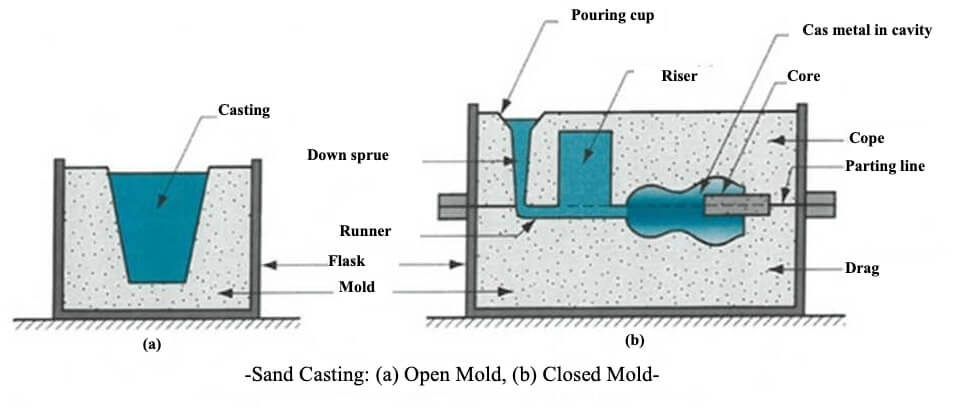 Advantages of Sand Casting
Sand casting process has significant advantages. In this context, it is required to explain the gains and the advantages of the process according to the types of sand mold casting. The advantages of the green sand mold casting process in the following item are given below.
The cost of mold material is low.
The mold can be used repeatedly. Therefore, it is an economical application.
It is a very simple and practical process.
It is extremely suitable for casting different metals.
One of the sand casting method is the dry sand casting process. This process also has very important advantages. The advantages of the process are as follows.
It is extremely resistant to metal erosion.
The risk of breaking of the material during transportation is much lower.
Controlling the rate of moisture during molding is not critical.
Since no steam is formed during casting, no casting error occurs.
Gas permeability is much better.
Mold ventilation problem is much less.
By using sands with lower permeability, a highly smooth surface can be obtained.
What are the Types of Sand Casting?
Sand casting can be categorized into three methods: green sand casting, dry sand casting and resin sand casting. Let us briefly explain what these sand casting types are and in which situations they are used.
Green Sand Casting (Green Sand Mold)
Casting is the process to obtain the desired product shape by pouring molten metal into a mold cavity to form the final product after solidification. Given the pressure created by the molten metal depending on the height and speed of entry into the mold sand, the mold sand must be strength enough to withstand these forces during both the inlet and progression of the liquid metal.
In addition to these, molding sand should have certain features, including adequate fluidity, plasticity, elasticity, viscosity, etc., to be able to prevent problems during the coating process, shape the molding sand easily, to avoid its decomposition, and to obtain the desired mold cavity without any problems.
Obtaining these desired characteristics depends on the physical and chemical structure of the raw materials used, humidity, temperature, the ratios added to the system to eliminate losses, and many other parameters.
If the molding sand does lacks one or more of the desired characteristics due to these factors, there would be loss of time not only by being stripped of the model during molding or on the product surfaces, but also by experiencing production disruptions (sieve clogging, straw overflow) and a few more mechanical failures.
Errors related to sand and sand operation should not be ignored in companies that have adopted a "quality production policy". Sand-related errors, such as malformation problems, negatively affect the production process and cost. Poor quality molding sand is even a significant discard reason in terms of system and its components.
There are two types of molding sand mixtures to be used in production according to the type of material. During production of gray cast iron and ductile iron products, the most preferred green molding sand is the one with bentonite binder. Although zircon, olivine and chromite sand can be used as molding sand components, the use of silica sand is more common in terms of cost, structural stability, refractoriness and binding properties.
The most important reason of the widespread use of bentonite and silica sand is that they can be recycled and reinforced, providing cost advantages.
Green molding sand consists of 4 main components:
Sand (silica sand, zircon sand, olivine sand, chromite sand, schamotte sand)
Coal Powder
Binder (bentonite, resin…)
Water
Please note that the casting industry is a sector that has existed for centuries both in our country and around the world. Green molding sand is an important factor in the production of cast iron, in terms of affordability, recyclability and suitability for mass production.
It is necessary to predict the return and cost of each situation in molding sand and to interpret the analysis results correctly.
Dry Sand Casting (Dry Sand Mold)
Dry sand molds are prepared similarly to green sand. The sand should be dried at a temperature between 15 and 350 degrees. The temperature should not exceed 400 degrees to ensure that the clay, which acts as a binder, does not lose all of its water content. In the case of loss of water, the strength of the sand will decrease.
Resin Sand Casting
Resin sand casting is a casting process in which resin and additives are added into dry silica sand. This process is generally used for casting bronze and stainless steel materials.
After the casting pattern is cleaned and prepared completely, the fixing pins are attached. Resin-hardener mixture is adjusted according to the nature of the product as well as environmental conditions. If harder molds are required, the resin ratio is increased. Empty trials are made first for sensitive molds in which there are too many recesses and protrusions.
Molding is usually performed using a horizontal spiral mixer. After the drag is completely filled and leveled, the cope is adjusted to place runners and risers and then it is frozen and leveled.
Sand is checked at regular intervals. Once it is confirmed that the mold is hardened, it is turned upside down and tapped slightly to remove the pattern. If necessary, mold is touched-up and painted. Then runners and risers are removed from the pattern. After the preliminary cleaning, the cores are placed and the pattern is cleaned again with air. After the capping pins are installed, the refractory adhesive is carefully applied to prevent the leakage of metal. The casting process ends by attaching the side hook placing the weight on the top.
The process should be concluded quickly, as the hardener can react with the resin and freeze. These reactions may occur depending on factors such as freezing of hardener, temperature and humidity. A cold environment is suitable for a slower freezing.
Which Parts Do We Cast in Sand Casting?
At Gedik Casting, we can cast several materials by making use of our modern facilities. In this context, the materials we cast are as follows.
Pig Iron
Nodular Pig Iron
Steel
Stainless Steel
Duplex Stainless Steel
High chrome cast irons
Tin bronze
Aluminum bronze
Areas in which Gedik Casting Provides Sand Casting Services
We, as Gedik Casting, are engaged in sand casting operations, especially for pumps and the automotive, defense, marine, agriculture and separator sectors. With the sand casting process, we can cast single parts weighing up to 3,000 kg.
We strive to provide you with the best service for various sector in modern facilities, with an understanding of superior service quality and customer satisfaction. We also have a precision casting process, allowing us to produce parts from 100 gr to 45 kg. In addition, our foundry is suitable not only for a particular product but rather for the production and drawing of all kinds of metals. In other words, the system we have established operates similar to a market. 
Gedik Casting and Sand Casting
Gedik Casting carries out its activities in two separate facilities in accordance with today's modern technology. Pendik/Our headquarters in Istanbul provides services as Gedik Advanced Casting Technologies. Hendek/We perform precision casting in a closed area of 25,000 sqm in Sakarya.
In addition to the abovementioned areas, we produce manifold connection parts and chassis bracket parts for the automotive industry; scraper nails for the agricultural sector; separation covers and boilers for separators; pump bodies; manifolds, engine connection parts and turbo bodies for the defence industry. We will continue to produce all kinds of casting materials that will contribute to the activities of our customers in various fields.
We serve various sectors, including automotive, machinery, process industry, agricultural machinery, defense industry, energy, mining, construction, etc., with our facilities certified with ISO-9001, IATF-16949, AD 2000-W0, Türk Loydu, DNV-GL, RINA. In addition to our ready-to-use product range, including special processes such as machining, painting and coating, we also provide R&D support, know-how transfer and project adaptation support to our customers with our state-of-the-art quality control equipment.
We offer competitive services to our customers by providing highly controlled, qualified and economical solutions with 3D drawing and casting simulation, analysis, 3D printing, 3D scanning, CMM, starting from the design of parts, and we analyze each demand of our business partners and work with approved suppliers.
Gedik Advanced Casting Technologies, headquartered in Istanbul, with its sand casting facilities established on an area of 14.000 m² within a closed area of 25.000 m² in Sakarya/TURKEY, is a solution partner for its customers in the production of many materials and parts In accordance with The DIN10293 Standard, such as,
Duplex,
Superduplex
Aluminum Bronze
Cast Iron
Ductile Iron
High Cr - High C
HiSiMo
it provides services to many sectors such as automotive, machinery, process industry, agricultural machinery, defense industry, energy, mining, construction in casting plants with ISO-9001, AD 2000-W0, Türk Loydu, DNV-GL, RINA certificates.
In addition to its ready-to-use product range including special processes such as machining, painting, coating, Gedik Advanced Casting Technologies also offers its customers R&D support, information transfer and project adaptation support with advanced technology quality control equipment.
Starting from the part design stage, 3D drawing and casting simulation, analysis, 3D printing, 3D scanning, CMM provides highly controlled, qualified and economical solutions, analyzing every demand of business partners and working with their approved suppliers.